To add, edit and manage your resources, hover over the Search glass on the right side of your Trac Navigation bar (top left corner on Main Menu) and select Resources. To add access to the Resource Menu for a Group, see Group Access Prefs.
To add a new resource, click on List Options and select "New Resource".

In the Resource Entry window that appears we can enter any relevant data for the Resource: Barcode ID, Center, Title, Description, or Keywords (to find by search). We can also regulate the Max days out, Max Time Out, or Max Renewal fields to control the amount of time this resource may be borrowed for.

An important field to note is the Resource Type field. Resources can be classified by Resource Type, for example: Text Books, Headphones, Calculators, etc…Resources can then be granted access to a group or restricted from a group based on the Type of the resource. To manage your Resource Types, go to your Utilities & Prefs > Advanced Prefs > ResourceTypes. Resource types here must be separated by a Enter or Return character.
In the lower half of the Resources Entry page are two sections. 

On the left side there is a checkbox next to Available. Check this checkbox to make this resource Available. When students borrow this resource, the "Due In" field will populate according to the rules that you previously set (Max days out or Max Time Out). The "Reserved By" field allows a User to reserve this item for future use by disallowing the item to be checked out to any other student other than the student selected. Click on the search glass icon   to reserve this item for a student.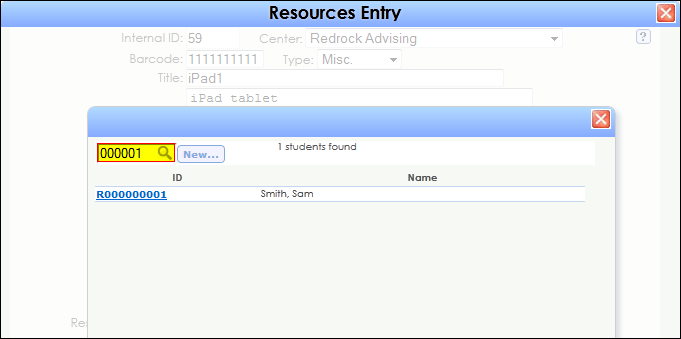 You can enter a student ID or name in the Search field to locate the student who wants to reserve the resource. Hit Enter or Return to execute your search.
Select the student by clicking on their ID number, and the Resource Entry record will update with the student's new reservation.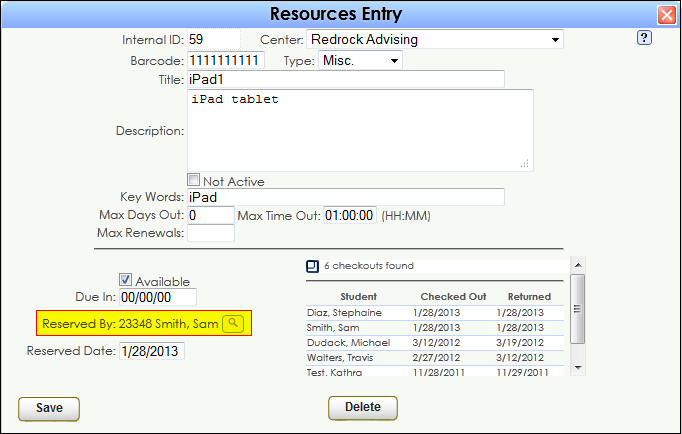 On the right side of the lower section there is an area that displays a history of the previous use of the selected Resource. We can see the names of students who checked this resource in and out, and the times that these events occurred.